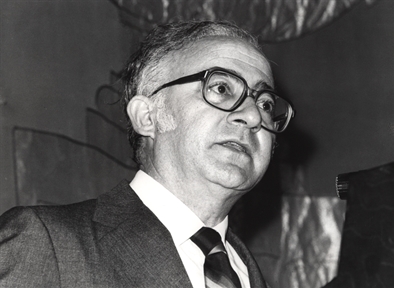 Lecture Series

La obra ejemplar de Leopoldo Alas, 'Clarín' (IV)

"Eclipse and recovery of 'Clarín'"
URL:
"«La recuperación de la obra de Clarín tiene aún un largo camino por andar. Todavía hoy un lector no puede encontrar en ninguna librería más de la mitad de las obras literarias de Clarín», señaló Gonzalo Sobejano, Profesor de Lenguas Románicas de la Universidad de Pennsylvania en Philadelphia, en un ciclo de conferencias que sobre «La obra ejemplar de Leopoldo Alas, 'Clarín'» impartió en la Fundación Juan March del 26 de mayo al 4 de junio pasados.
El tema base de estas cuatro conferencias ha sido el dilema poesia-prosa, conflicto generador de toda la obra clariniana, en opinión de Sobejano, el contraste entre el mundo poético y un romanticismo «de la desilusión» y el prosaísmo de la burguesía conservadora en la que florece el positivismo."
Según lo previsto en la Ley 34/2002 de Servicios de la Sociedad de la Información y de Comercio Electrónico, en la Ley Orgánica 15/1999 del 13 de Diciembre, de Protección de Datos de Carácter Personal y en el Reglamento (UE) 2016/679 General de Protección de Datos, le informamos que sus datos personales figurarán en nuestros archivos automatizados. Sus datos no son ni serán en ningún caso suministrados a terceros. Puede en cualquier momento ejercitar su derecho de acceder, rectificar, de oposición al uso y, en su caso, cancelar sus datos personales comunicando al correo electrónico privacidad@march.es la operación a realizar. Más información sobre nuestra política de privacidad.