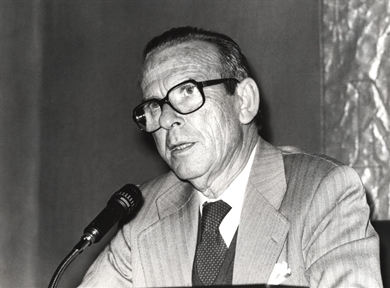 Lecture Series

El léxico político (I)

(I) "Introduction to the study of the political lexicon. Nature and levels"
URL:
Date: 10/11/1981
Presenter:
"«El lenguaje político, como todo lenguaje, no es inocente. Intenta siempre, de alguna manera, mover al oyente en una dirección determinada, manipular nuestra conciencia», señaló Eugenio de Bustos, catedrático de Gramática Histórica de la Lengua Española, dentro del ciclo de conferencias que sobre «El léxico político» impartió el pasado noviembre en la Fundación Juan March.
A lo, largo de este ciclo, en el que también intervino Juan Felipe García Santos, profesor de la Universidad salmantina, se abordó la evolución que ha seguido el vocabulario político español desde las Cortes de Cádiz hasta nuestros días."
Según lo previsto en la Ley 34/2002 de Servicios de la Sociedad de la Información y de Comercio Electrónico, en la Ley Orgánica 15/1999 del 13 de Diciembre, de Protección de Datos de Carácter Personal y en el Reglamento (UE) 2016/679 General de Protección de Datos, le informamos que sus datos personales figurarán en nuestros archivos automatizados. Sus datos no son ni serán en ningún caso suministrados a terceros. Puede en cualquier momento ejercitar su derecho de acceder, rectificar, de oposición al uso y, en su caso, cancelar sus datos personales comunicando al correo electrónico privacidad@march.es la operación a realizar. Más información sobre nuestra política de privacidad.