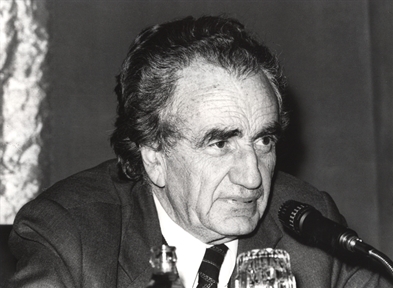 Lecture Series

El bilingüismo (IV)

"Linguistic problems in the construction of Europe"
URL:
"«España constituye una pluralidad lingüistica que, a pesar de los conflictos y tensiones que ello conlleva, hay que aceptar como una realidad enriquecedora. Existen hoy, por primera vez, unos textos constitucionales en los que se afirma esa pluralidad de lenguas en nuestro país y, en la práctica, unos gobiernos autónomos que confieren a esas lenguas un carácter de oficialidad. En general, el proceso de aceptación de tal pluralidad se está llevando a cabo en nuestro país con gran serenidad y sentido común». Asi juzga el panorama actual de la política lingüistica española Miguel Siguán, catedrático de Psicología de la Universidad de Barcelona, que impartió en la Fundación Juan March un ciclo de conferencias sobre «El bilingüismo», del 24 de noviembre al 3 de diciembre pasados.
Ofrecemos seguidamente un resumen del mismo, en el que el profesor Siguán analizó el bilingüismo como hecho individual y social y comentó algunos de los problemas que plantea la existencia de una pluralidad de lenguas."
Según lo previsto en la Ley 34/2002 de Servicios de la Sociedad de la Información y de Comercio Electrónico, en la Ley Orgánica 15/1999 del 13 de Diciembre, de Protección de Datos de Carácter Personal y en el Reglamento (UE) 2016/679 General de Protección de Datos, le informamos que sus datos personales figurarán en nuestros archivos automatizados. Sus datos no son ni serán en ningún caso suministrados a terceros. Puede en cualquier momento ejercitar su derecho de acceder, rectificar, de oposición al uso y, en su caso, cancelar sus datos personales comunicando al correo electrónico privacidad@march.es la operación a realizar. Más información sobre nuestra política de privacidad.