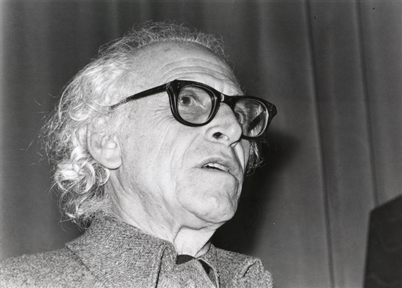 Lecture Series

Cuatro lecciones sobre Mondrian (I)

"My friend Piet Mondrian" opening of the exhibition PIET MONDRIAN
URL:
Date: 19/01/1982
Presenter:
La conferencia de Harry Holtzman sobre «Mi amigo Piet Mondrian» fue la primera de un ciclo de cuatro dedicadas al artista holandés, pronunciadas por otros tantos especialistas extranjeros los días 21, 26 y 28 de enero: Karin Frank von Maur, conservadora de la Staatsgalerie, de Stuttgart, abordó el tema de «Mondrian y la música»; el escultor y arquitecto Max Bill trató de «Mondrian y el espacio»; y R. H. Fuchs, director del Van Abbemuseum, de Eindhoven, cerró el ciclo con una conferencia sobre «Mondrian, pintor holandés». Del contenido de este ciclo de conferencias ofrecemos un resumen en páginas siguientes. Del estudio de Karin von Maur, se publicó, en el n.° 112 de este Boletín, un amplio resumen con el titulo «Mondrian y la música».
Según lo previsto en la Ley 34/2002 de Servicios de la Sociedad de la Información y de Comercio Electrónico, en la Ley Orgánica 15/1999 del 13 de Diciembre, de Protección de Datos de Carácter Personal y en el Reglamento (UE) 2016/679 General de Protección de Datos, le informamos que sus datos personales figurarán en nuestros archivos automatizados. Sus datos no son ni serán en ningún caso suministrados a terceros. Puede en cualquier momento ejercitar su derecho de acceder, rectificar, de oposición al uso y, en su caso, cancelar sus datos personales comunicando al correo electrónico privacidad@march.es la operación a realizar. Más información sobre nuestra política de privacidad.