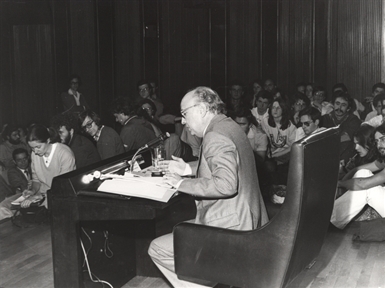 Lecture Series

Historia y ciencia (IV)

"Science and the future of humanity"
URL:
«En nuestros dias, la ciencia ha destruido muchos de nuestros sistemas de valores, creando una situación radicalmente nueva en la historia de la humanidad. La tarea urgente, con vistas al futuro, de reintegrar la ciencia en la existencia humana se enfrenta, hoy por hoy, con grandes obstáculos que es necesario ir salvando para que sepamos realmente en qué situación histórica nos encontramos.» Asi ve el panorama de la incidencia de la ciencia en la vida del hombre el profesor adjunto de la Universidad Autónoma de Madrid, Antonio Ferraz, quien impartió del 4 al 13 del pasado mayo en la Fundación un ciclo de conferencias sobre «Historia y Ciencia».
Según lo previsto en la Ley 34/2002 de Servicios de la Sociedad de la Información y de Comercio Electrónico, en la Ley Orgánica 15/1999 del 13 de Diciembre, de Protección de Datos de Carácter Personal y en el Reglamento (UE) 2016/679 General de Protección de Datos, le informamos que sus datos personales figurarán en nuestros archivos automatizados. Sus datos no son ni serán en ningún caso suministrados a terceros. Puede en cualquier momento ejercitar su derecho de acceder, rectificar, de oposición al uso y, en su caso, cancelar sus datos personales comunicando al correo electrónico privacidad@march.es la operación a realizar. Más información sobre nuestra política de privacidad.