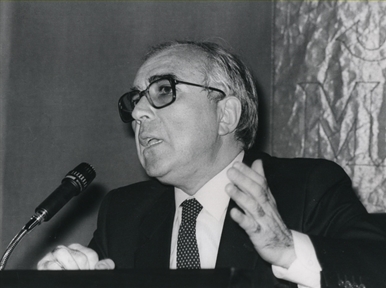 Lecture Series

Introducción al lenguaje cinematográfico (IV)

(and IV) "Typologies and codes of film discourse"
URL:
"«El cine es la única tecnología de comunicación de masas que hereda del teatro, del circo y del estadio deportivo la fruición comunitaria del público en grandes recintos, a diferencia de otros medios como el libro, la radio o la televisión, de consumo privado. De ahi que cuando hoy se habla de la crisis del cine, hay que precisar que lo que realmente está en crisis es ese modo de consumo comunitario, el sector de las salas de proyección». Asi ve la función social y comunitaria del cine Román Gubern, crítico de cine y catedrático de Teoría e Historia de la Imagen de la Universidad Autónoma ae Barcelona, quien impartió del 19 al 28 de octubre pasado un curso universitario sobre «Introducción al lenguaje cinematográfico».
El profesor Gubern, a lo largo de cuatro lecciones, analizó el cine como modalidad de comunicación audiovisual, la importancia de la puesta en escena y de las articulaciones del montaje, para finalizar abordando las diversas tipologías y códigos del discurso cinematográfico."
Según lo previsto en la Ley 34/2002 de Servicios de la Sociedad de la Información y de Comercio Electrónico, en la Ley Orgánica 15/1999 del 13 de Diciembre, de Protección de Datos de Carácter Personal y en el Reglamento (UE) 2016/679 General de Protección de Datos, le informamos que sus datos personales figurarán en nuestros archivos automatizados. Sus datos no son ni serán en ningún caso suministrados a terceros. Puede en cualquier momento ejercitar su derecho de acceder, rectificar, de oposición al uso y, en su caso, cancelar sus datos personales comunicando al correo electrónico privacidad@march.es la operación a realizar. Más información sobre nuestra política de privacidad.