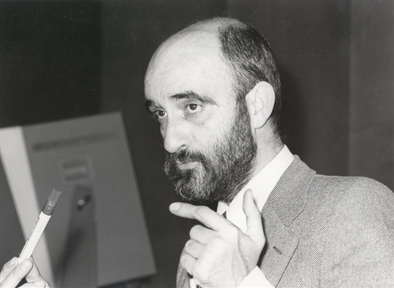 Lecture Series

Goethe y España (II)

"Faust in the work of Goethe"
URL:
Sobre «Goethe y España» la Fundación Juan March organizó, del 16 al 25 de noviembre del pasado año, un ciclo de conferencias a cargo de Jaime Cerrolaza, Director del Departamento de Lengua y Literatura Germánicas de la Universidad Complutense, y de Emilio Lorenzo, académico de la Lengua y catedrático de Lingüística Germánica de la misma Universidad. El profesor Cerrolaza abordó los temas de «Goethe y su época» y «El Fausto en la obra de Goethe»; y Emilio Lorenzo trató, en otras dos lecciones, de «Los españoles y Goethe» y «La obra de Goethe en España». Este ciclo, organizado con motivo de cumplirse el pasado año el 150 aniversario de la muerte del célebre poeta alemán, se complementó con un ciclo de conciertos sobre textos de Goethe, del que se dio información en el anterior Boletín Informativo.
Según lo previsto en la Ley 34/2002 de Servicios de la Sociedad de la Información y de Comercio Electrónico, en la Ley Orgánica 15/1999 del 13 de Diciembre, de Protección de Datos de Carácter Personal y en el Reglamento (UE) 2016/679 General de Protección de Datos, le informamos que sus datos personales figurarán en nuestros archivos automatizados. Sus datos no son ni serán en ningún caso suministrados a terceros. Puede en cualquier momento ejercitar su derecho de acceder, rectificar, de oposición al uso y, en su caso, cancelar sus datos personales comunicando al correo electrónico privacidad@march.es la operación a realizar. Más información sobre nuestra política de privacidad.