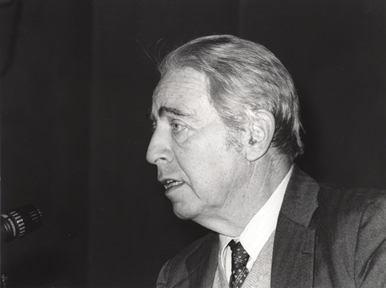 Lecture Series

Cuatro lecciones sobre hispanismo (III)

"Hispanism and History of Spain"
URL:
«No todo lo que se publica en el extranjero sobre la cultura española es de primera calidad. Si cuantitativamente el panorama actual del hispanismo es abrumador, sigue habiendo grandes lagunas y hace falta volver a un hispanismo de contenido y enfoque humanista, a una visión de conjunto frente a los grandes temas de nuestra cultura. Esto es algo que se está perdiendo, debido a la cada vez mayor especialización y a la obsesión de publicar lo que sea, para no perecer.» Así ve el panorama del Hispanismo el catedrático de la Universidad del Estado de Nueva York en Albany, Germán Bleiberg, quien impartió, del 11 al 20 de enero, «Cuatro lecciones sobre Hispanismo», en la sede de la Fundación. A lo largo de estas conferencias, el profesor Bleiberg abordó diversos temas relativos al desarrollo y estado actual del hispanismo en los Estados Unidos, así como su conexión con la historia y las Bellas Artes.
Según lo previsto en la Ley 34/2002 de Servicios de la Sociedad de la Información y de Comercio Electrónico, en la Ley Orgánica 15/1999 del 13 de Diciembre, de Protección de Datos de Carácter Personal y en el Reglamento (UE) 2016/679 General de Protección de Datos, le informamos que sus datos personales figurarán en nuestros archivos automatizados. Sus datos no son ni serán en ningún caso suministrados a terceros. Puede en cualquier momento ejercitar su derecho de acceder, rectificar, de oposición al uso y, en su caso, cancelar sus datos personales comunicando al correo electrónico privacidad@march.es la operación a realizar. Más información sobre nuestra política de privacidad.