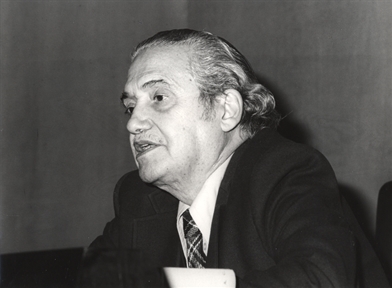 Lecture Series

La poesía de San Juan de la Cruz (1983) (III)

"The education and poetry of Saint John of the Cross"
URL:
"«La poesía no fue algo accidental en la vida de San Juan de la Cruz. Fue poeta en el pleno sentido de la palabra y sintió la poesia como el medio más elevado y potente de experiencia mistica y de comunicación emocional. De ahí que en su obra poética se dé un perfecto equilibrio entre inspiración y construcción.» Así enjuició la poesia de San Juan de la Cruz Emilio Orozco, catedrático jubilado de Lengua y Literatura Española de la Universidad de Granada, en un curso de cuatro lecciones que sobre ese tema pronunció en la sede de la Fundación Juan March, del 10 al 19 del pasado mes de mayo.
Dos perspectivas principales siguió el conferenciante en su análisis de la poesía de San Juan de la Cruz: la consideración de la misma como canto, tanto en su concepción como en su expresión, y su inseparabilidad del ambiente espiritual de la orden carmelitana."
Según lo previsto en la Ley 34/2002 de Servicios de la Sociedad de la Información y de Comercio Electrónico, en la Ley Orgánica 15/1999 del 13 de Diciembre, de Protección de Datos de Carácter Personal y en el Reglamento (UE) 2016/679 General de Protección de Datos, le informamos que sus datos personales figurarán en nuestros archivos automatizados. Sus datos no son ni serán en ningún caso suministrados a terceros. Puede en cualquier momento ejercitar su derecho de acceder, rectificar, de oposición al uso y, en su caso, cancelar sus datos personales comunicando al correo electrónico privacidad@march.es la operación a realizar. Más información sobre nuestra política de privacidad.