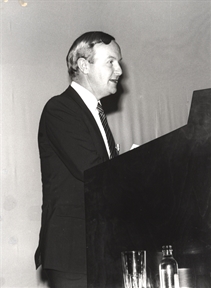 Lecture Series

La nueva Neurobiología (IV)

"Chemical messengers in the brain"
URL:
Date: 23/05/1983
Presenters:

José Luis Yuste
David Vázquez Martínez
Un ciclo sobre «La nueva Neurobiología», en el que participaron ocho científicos extranjeros y españoles —dos de ellos Premios Nobel— se desarrolló en la sede de la Fundación Juan March, del 2 al 23 del pasado mes de mayo. Fueron ponentes de las distintas sesiones el canadiense David H. Hubel, Premio Nobel de Medicina 1981 y Profesor de la John Franklin Enders University, de Boston; el francés Roger Guillemin, Presidente de los Laboratorios de Neuroendocrinología, en The Salk Institute, de La Jolla (California) y Premio Nobel de Medicina en 1977; el argentino A. Claudio Cuello, Supervisor de los Laboratorios de Investigación del Departamento de Farmacología y Anatomía Humana, de Oxford (Inglaterra); y el inglés Leslie L. Iversen, Director Ejecutivo del Neuroscience Research Centre (Inglaterra).
Según lo previsto en la Ley 34/2002 de Servicios de la Sociedad de la Información y de Comercio Electrónico, en la Ley Orgánica 15/1999 del 13 de Diciembre, de Protección de Datos de Carácter Personal y en el Reglamento (UE) 2016/679 General de Protección de Datos, le informamos que sus datos personales figurarán en nuestros archivos automatizados. Sus datos no son ni serán en ningún caso suministrados a terceros. Puede en cualquier momento ejercitar su derecho de acceder, rectificar, de oposición al uso y, en su caso, cancelar sus datos personales comunicando al correo electrónico privacidad@march.es la operación a realizar. Más información sobre nuestra política de privacidad.