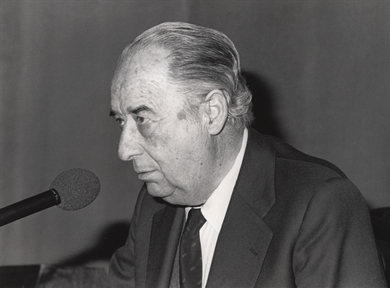 Lecture Series

El teatro de Cervantes : problemas y proposiciones (II)

(II) "His theatre, to the printing press (1615): 'Los baños de Argel', 'El gallardo español', and 'La gran sultana'"
URL:
De 14 al 23 de febrero se celebró en la Fundación Juan March un curso de cuatro conferencias dedicadas al teatro de Cervantes, que dictó el profesor Francisco Yndurain. En dicho curso se analizó bajo el titulo genérico de El teatro de Cervantes: Problemas y proposiciones, prácticamente la totalidad de la obra dramática del autor, aunque más específicamente de los títulos recogidos en los epígrafes de cada una de las conferencias, que fueron: La llamada de la escena: 'Los tratos de Argel' y 'La Destrucción de Numancia' celebrada el día 13, Su teatro, a la imprenta, (1615) Análisis de 'Los baños de Argel', 'El gallardo español' y 'La gran sultana', que tuvo lugar el día 16. El martes 21 se habló sobre Otros rumbos: 'La casa de los celos', 'La entretenida', 'Pedro de Urdemalas' y 'El Rufián dichoso' y, el jueves 23, en torno a Los ocho entremeses. Resumen y síntesis.
Según lo previsto en la Ley 34/2002 de Servicios de la Sociedad de la Información y de Comercio Electrónico, en la Ley Orgánica 15/1999 del 13 de Diciembre, de Protección de Datos de Carácter Personal y en el Reglamento (UE) 2016/679 General de Protección de Datos, le informamos que sus datos personales figurarán en nuestros archivos automatizados. Sus datos no son ni serán en ningún caso suministrados a terceros. Puede en cualquier momento ejercitar su derecho de acceder, rectificar, de oposición al uso y, en su caso, cancelar sus datos personales comunicando al correo electrónico privacidad@march.es la operación a realizar. Más información sobre nuestra política de privacidad.