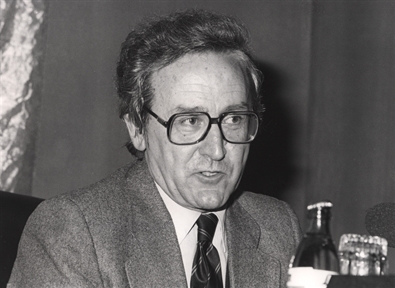 Lecture Series

El socialismo, ayer y hoy (IV)

"Post-socialism?. Criticism and self-criticism of the democratic Socialism"
URL:
El Catedrático de Filosofía del Derecho, Elias Díaz García, dio, en la Fundación Juan March y dentro de los habituales Cursos Universitarios, cuatro conferencias con el título genérico de El socialismo ayer y hoy. Estas se celebraron los días 28 de febrero y 1, 6 y 8 de marzo, en los que, respectivamente, se habló de ¿Qué es el Socialismo?, Marx y los marxistas, Socialismo en España: pasado y presente, y ¿Postsocialismo? Críticas y autocríticas del Socialismo democrático.
Según lo previsto en la Ley 34/2002 de Servicios de la Sociedad de la Información y de Comercio Electrónico, en la Ley Orgánica 15/1999 del 13 de Diciembre, de Protección de Datos de Carácter Personal y en el Reglamento (UE) 2016/679 General de Protección de Datos, le informamos que sus datos personales figurarán en nuestros archivos automatizados. Sus datos no son ni serán en ningún caso suministrados a terceros. Puede en cualquier momento ejercitar su derecho de acceder, rectificar, de oposición al uso y, en su caso, cancelar sus datos personales comunicando al correo electrónico privacidad@march.es la operación a realizar. Más información sobre nuestra política de privacidad.