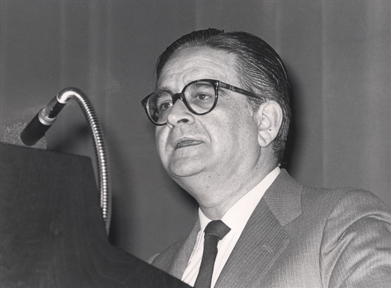 Lecture Series

La encrucijada de la economía española (IV)

"Financial and real imbalances of Spanish economy"
URL:
El pasado mes de marzo, concretamente los días 13, 15, 20 y 22, el profesor Luis Angel Rojo pronunció cuatro conferencias en la sede de la Fundación Juan March bajo el título genérico de La encrucijada de la economía española. Organizado bajo la fórmula habitual de Cursos Universitarios, que en esta institución se celebran sobre diferentes temas y con la intervención de especialistas y profesores, Luis Angel Rojo habló sobre La economía ante dos crisis: 1929-1938 y 1974-1984, Los problemas económicos españoles en la transición política, Los déficit públicos: sus causas y efectos y Desequilibrios financieros reales de la economía española.
Según lo previsto en la Ley 34/2002 de Servicios de la Sociedad de la Información y de Comercio Electrónico, en la Ley Orgánica 15/1999 del 13 de Diciembre, de Protección de Datos de Carácter Personal y en el Reglamento (UE) 2016/679 General de Protección de Datos, le informamos que sus datos personales figurarán en nuestros archivos automatizados. Sus datos no son ni serán en ningún caso suministrados a terceros. Puede en cualquier momento ejercitar su derecho de acceder, rectificar, de oposición al uso y, en su caso, cancelar sus datos personales comunicando al correo electrónico privacidad@march.es la operación a realizar. Más información sobre nuestra política de privacidad.