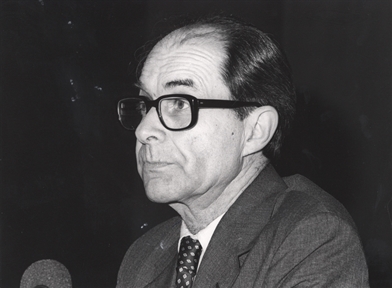 Lecture Series

La conciencia liberal: Historia y porvenir (I)

"The formation of the liberal conscience (1688-1830)"
URL:
Date: 3/05/1984
Presenter:
El ensayista y profesor de la Universidad de Harvard Juan Marichal impartió en la Fundación Juan March, el pasado mes de mayo, un ciclo de conferencias sobre «La conciencia liberal: historia y porvenir», en el que hizo un repaso de las principales líneas de desarrollo y expansión del liberalismo desde la Revolución Francesa hasta nuestros días. Para el profesor Marichal, hay que entender el liberalismo «no como ideología de un determinado partido político o grupo, sino como conciencia que orienta a todos los partidos que afirmen y defiendan la libertad política y los derechos humanos».
Según lo previsto en la Ley 34/2002 de Servicios de la Sociedad de la Información y de Comercio Electrónico, en la Ley Orgánica 15/1999 del 13 de Diciembre, de Protección de Datos de Carácter Personal y en el Reglamento (UE) 2016/679 General de Protección de Datos, le informamos que sus datos personales figurarán en nuestros archivos automatizados. Sus datos no son ni serán en ningún caso suministrados a terceros. Puede en cualquier momento ejercitar su derecho de acceder, rectificar, de oposición al uso y, en su caso, cancelar sus datos personales comunicando al correo electrónico privacidad@march.es la operación a realizar. Más información sobre nuestra política de privacidad.