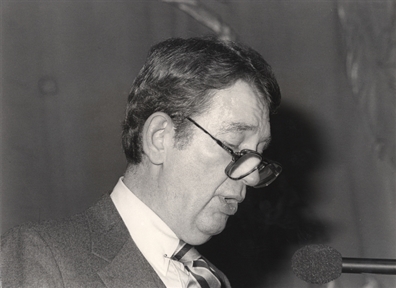 Lecture Series

Descubrimiento y fronteras del Neoclasicismo español (III)

"Those good times of Garcilaso and Neoclassicism"
URL:
Con el título de «Descubrimiento y fronteras del Neoclasicismo español», Russell P. Sebold, catedrático de la Universidad de Pennsylvania y director de la «Hispanic Review», impartió un ciclo de conferencias en la Fundación Juan March, del 6 al 15 del pasado noviembre. Contribuir a desterrar algunos prejuicios y tópicos sobre el siglo XVIII español, a la par que ampliar las «fronteras» de esta tendencia literaria tanto hacia el pasado como hacia el futuro, fue el propósito del hispanista norteamericano en este curso de cuatro lecciones
Según lo previsto en la Ley 34/2002 de Servicios de la Sociedad de la Información y de Comercio Electrónico, en la Ley Orgánica 15/1999 del 13 de Diciembre, de Protección de Datos de Carácter Personal y en el Reglamento (UE) 2016/679 General de Protección de Datos, le informamos que sus datos personales figurarán en nuestros archivos automatizados. Sus datos no son ni serán en ningún caso suministrados a terceros. Puede en cualquier momento ejercitar su derecho de acceder, rectificar, de oposición al uso y, en su caso, cancelar sus datos personales comunicando al correo electrónico privacidad@march.es la operación a realizar. Más información sobre nuestra política de privacidad.