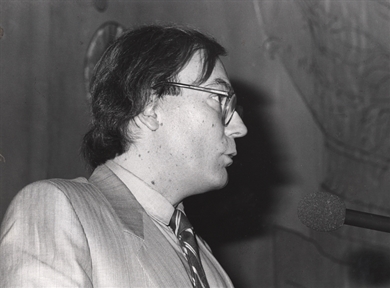 Inaugural lectures

Inauguración de la Exposición "ANTOLÓGICA DE FERNANDO ZOBEL". Fernando Zóbel: Legend, method and pulchritude of a painter
URL:
Date: 26/09/1984
Presenter:
Un total de 45 óleos integran la Exposición del artista Fernando Zóbel, que está abierta en la sede de la Fundación Juan March desde el 26 de septiembre. Esta muestra póstuma de Zóbel ofrece una selección de óleos realizados desde 1959 hasta el presente año, que se encuadran en algunas de sus series, como «Diálogos», «El Júcar», «Orillas» o la «Serie Blanca». La exposición de 45 obras que ahora ofrece la Fundación Juan March en su sede se ha centrado en la producción de pintura al óleo de este artista, que cultivó otras modalidades, como el dibujo, el grabado, la fotografía, la acuarela, etc. En el acto inaugural, tras unas palabras del Presidente de la Fundación, Juan March Delgado, pronunció una conferencia el crítico de arte de «El País» y profesor de la Universidad Complutense Francisco Calvo Serraller, autor asimismo del estudio sobre Zóbel reproducido en el catálogo de la Exposición.
Según lo previsto en la Ley 34/2002 de Servicios de la Sociedad de la Información y de Comercio Electrónico, en la Ley Orgánica 15/1999 del 13 de Diciembre, de Protección de Datos de Carácter Personal y en el Reglamento (UE) 2016/679 General de Protección de Datos, le informamos que sus datos personales figurarán en nuestros archivos automatizados. Sus datos no son ni serán en ningún caso suministrados a terceros. Puede en cualquier momento ejercitar su derecho de acceder, rectificar, de oposición al uso y, en su caso, cancelar sus datos personales comunicando al correo electrónico privacidad@march.es la operación a realizar. Más información sobre nuestra política de privacidad.