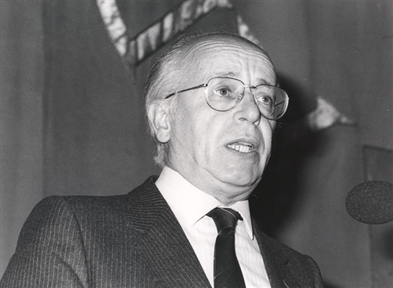 Lecture Series

Política y felicidad (II)

"Politics and 'the good of man'"
URL:
«Alguien podrá extrañarse de que política y felicidad vayan juntas en un mismo enunciado y no debería sorprenderse nadie. Ambos términos tienen fundamentalmente mucho que ver. Lo que ocurre es que la historia ha ido hasta cierto punto deteriorándolos». Con estas palabras iniciaba el profesor Emilio Lledó el curso universitario «Política y felicidad», que impartió en la Fundación Juan March los días 21, 23, 28 y 30 de enero. Los títulos de las cuatro conferencias de que constaba el curso fueron los siguientes: «Los orígenes de la idea de felicidad», «La política y 'el bien del hombre'», «Amistad y política» y «Ante la muralla de la ciudad ideal».
Según lo previsto en la Ley 34/2002 de Servicios de la Sociedad de la Información y de Comercio Electrónico, en la Ley Orgánica 15/1999 del 13 de Diciembre, de Protección de Datos de Carácter Personal y en el Reglamento (UE) 2016/679 General de Protección de Datos, le informamos que sus datos personales figurarán en nuestros archivos automatizados. Sus datos no son ni serán en ningún caso suministrados a terceros. Puede en cualquier momento ejercitar su derecho de acceder, rectificar, de oposición al uso y, en su caso, cancelar sus datos personales comunicando al correo electrónico privacidad@march.es la operación a realizar. Más información sobre nuestra política de privacidad.