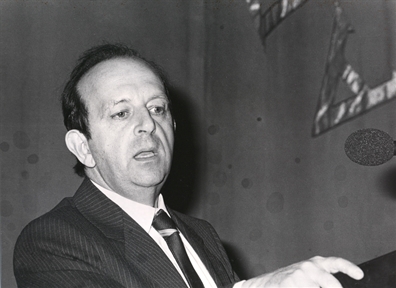 Lecture Series

Mapa lingüístico de la España actual (V)

"The linguistic profile of Catalonia, Valencia and Majorca. I"
URL:
Date: 6/05/1986
Presenter:
El español en España, la realidad lingüística de Asturias, la lengua vasca y el perfil lingüístico de Cataluña, Valencia y Mallorca, así como la lengua gallega, fueron objeto de análisis dentro de un ciclo de siete conferencias con el título de «Mapa lingüístico de la España actual», que se celebró en la Fundación Juan March del 22 de abril al 31 de mayo. El ciclo estuvo dirigido por el académico Manuel Seco, quien realizó la presentación de cada conferenciante; y en él intervinieron los profesores Gregorio Salvador (con dos conferencias), Jesús Neira, María Teresa Echenique, Germán Colón (con dos conferencias) y Constantino García.
Según lo previsto en la Ley 34/2002 de Servicios de la Sociedad de la Información y de Comercio Electrónico, en la Ley Orgánica 15/1999 del 13 de Diciembre, de Protección de Datos de Carácter Personal y en el Reglamento (UE) 2016/679 General de Protección de Datos, le informamos que sus datos personales figurarán en nuestros archivos automatizados. Sus datos no son ni serán en ningún caso suministrados a terceros. Puede en cualquier momento ejercitar su derecho de acceder, rectificar, de oposición al uso y, en su caso, cancelar sus datos personales comunicando al correo electrónico privacidad@march.es la operación a realizar. Más información sobre nuestra política de privacidad.