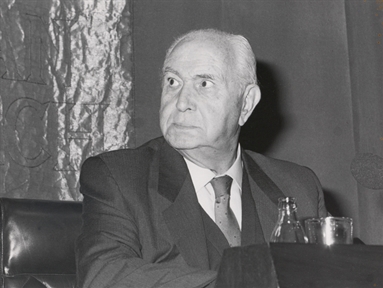 Lecture Series

Viaje hacia Unamuno (IV)

"The person of Unamuno: The man of secret"
URL:
El 31 de este mes se cumplen 50 años de la muerte, en Salamanca, de Miguel de Unamuno. Con este motivo Pedro Laín Entralgo, director de la Real Academia Española, impartió en la Fundación Juan March un curso universitario, entre los días 21 y 30 de octubre, con el título genérico de «Viaje hacia Unamuno». Las cuatro conferencias que pronunció fueron las siguientes: «La palabra de Unamuno», «La España de Unamuno», «La persona de Unamuno: vidas complementarias» y «La persona de Unamuno: el hombre de secreto».
Según lo previsto en la Ley 34/2002 de Servicios de la Sociedad de la Información y de Comercio Electrónico, en la Ley Orgánica 15/1999 del 13 de Diciembre, de Protección de Datos de Carácter Personal y en el Reglamento (UE) 2016/679 General de Protección de Datos, le informamos que sus datos personales figurarán en nuestros archivos automatizados. Sus datos no son ni serán en ningún caso suministrados a terceros. Puede en cualquier momento ejercitar su derecho de acceder, rectificar, de oposición al uso y, en su caso, cancelar sus datos personales comunicando al correo electrónico privacidad@march.es la operación a realizar. Más información sobre nuestra política de privacidad.