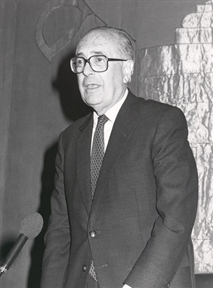 Lecture Series

Antropología de la muerte (III)

"Euthanasia, the experience of an extreme situation"
URL:
«Antropología de la muerte» fue el tema objeto de un ciclo de conferencias que impartió en la Fundación Juan March el médico y Presidente de la Real Academia Gallega, Domingo García Sabell, del 4 al 13 de noviembre pasado. «La muerte es impenetrable, nadie puede salvarse de ella y nadie ha llegado a definirla antropológicamente de forma satisfactoria. Plantea múltiples problemas en todos los campos. Por eso sólo cabe rodear a la muerte, pasear en torno al gran misterio que es la muerte, tratando antropológicamente de los hechos que la delimitan». Este fue el objetivo de las cuatro conferencias del doctor García Sabell, en las que abordó la agonía, la vejez como correlato de la muerte, la eutanasia y otros múltiples aspectos que engloba una visión totalizadora de la muerte.
Según lo previsto en la Ley 34/2002 de Servicios de la Sociedad de la Información y de Comercio Electrónico, en la Ley Orgánica 15/1999 del 13 de Diciembre, de Protección de Datos de Carácter Personal y en el Reglamento (UE) 2016/679 General de Protección de Datos, le informamos que sus datos personales figurarán en nuestros archivos automatizados. Sus datos no son ni serán en ningún caso suministrados a terceros. Puede en cualquier momento ejercitar su derecho de acceder, rectificar, de oposición al uso y, en su caso, cancelar sus datos personales comunicando al correo electrónico privacidad@march.es la operación a realizar. Más información sobre nuestra política de privacidad.