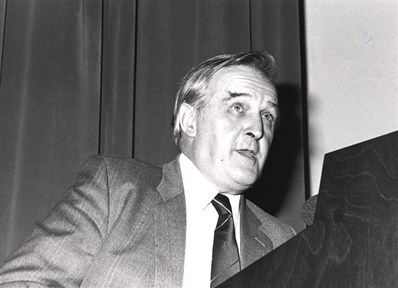 Lecture Series

Medicina Molecular (IV)

"Recombinant DNA and the Prevention of Human Hereditary Disease"
URL:
Date: 26/05/1986
Presenter:
Los Premios Nobel Max Ferdinand Perutz y Christian De Duve, de Química 1962 y de Medicina 1974, respectivamente, y los doctores Eladio Viñuela, del Centro de Biología Molecular, del C.S.I.C., y D. J. Weatherall, del John Radcliffe Hospital de la Universidad de Oxford, intervinieron en un ciclo sobre «Medicina Molecular», que organizó la Fundación Juan March en su sede del 5 al 26 de mayo pasado. Participó también en esta serie de conferencias científicas el Premio Nobel de Medicina 1984 César Milstein, quien presentó al doctor Weatherall. Los demás ponentes fueron presentados por José A. López de Castro, Antonio García-Bellido y Manuel Serrano Ríos.
Según lo previsto en la Ley 34/2002 de Servicios de la Sociedad de la Información y de Comercio Electrónico, en la Ley Orgánica 15/1999 del 13 de Diciembre, de Protección de Datos de Carácter Personal y en el Reglamento (UE) 2016/679 General de Protección de Datos, le informamos que sus datos personales figurarán en nuestros archivos automatizados. Sus datos no son ni serán en ningún caso suministrados a terceros. Puede en cualquier momento ejercitar su derecho de acceder, rectificar, de oposición al uso y, en su caso, cancelar sus datos personales comunicando al correo electrónico privacidad@march.es la operación a realizar. Más información sobre nuestra política de privacidad.