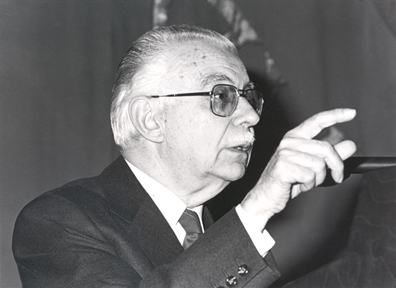 Lecture Series

Siglos de Oro: la literatura pastoril (III)

"The constitution of the new genre. Montemayor"
URL:
"Sobre el tema «Siglos de Oro: la literatura pastoril», Francisco López Estrada, profesor emérito de Literatura Española de la Universidad Complutense, impartió en la Fundación Juan March, del 24 de febrero al 5 de marzo, un ciclo de conferencias, en el que analizó la función desempeñada por la literatura pastoril en el curso de la historia literaria española, tratando de «superar la pesada losa de la crítica negativa acumulada sobre este género».
El curso constaba de cuatro conferencias, tituladas: «Los orígenes lejanos. Juan del Enzina»; «Los orígenes cercanos. Garcilaso»; «La constitución del nuevo género. Montemayor»; y «Los libros de pastores de Lope y Cervantes»."
Según lo previsto en la Ley 34/2002 de Servicios de la Sociedad de la Información y de Comercio Electrónico, en la Ley Orgánica 15/1999 del 13 de Diciembre, de Protección de Datos de Carácter Personal y en el Reglamento (UE) 2016/679 General de Protección de Datos, le informamos que sus datos personales figurarán en nuestros archivos automatizados. Sus datos no son ni serán en ningún caso suministrados a terceros. Puede en cualquier momento ejercitar su derecho de acceder, rectificar, de oposición al uso y, en su caso, cancelar sus datos personales comunicando al correo electrónico privacidad@march.es la operación a realizar. Más información sobre nuestra política de privacidad.