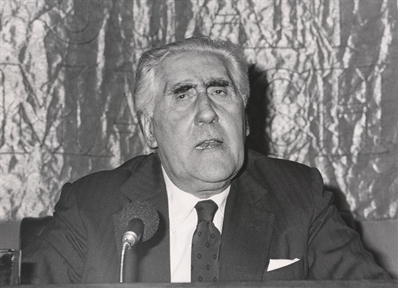 Lecture Series

Los mundos poéticos de Antonio Machado (IV)

"Spaces of light and shadow. The complementaries"
URL:
"Entre el 10 y el 17 de marzo, Ricardo Gullón impartió en la Fundación Juan March un curso universitario con el título de «Los mundos poéticos de Antonio Machado», en el que se propuso investigar su poesía, y en concreto sus espacios poéticos, desde un estudio diacrónico de la obra total, en lugar de concentrarse, como ya lo ha hecho en otras ocasiones, en el análisis sincrónico.
El curso constaba de cuatro conferencias, tituladas de esta manera: «Espacios cerrados. Simbolismo»; «Espacios abiertos. Indigenismo»; «Lugares del pensar meditabundo. Mitificación»; y «Ambitos de luz y de sombra. Los complementarios»."
Según lo previsto en la Ley 34/2002 de Servicios de la Sociedad de la Información y de Comercio Electrónico, en la Ley Orgánica 15/1999 del 13 de Diciembre, de Protección de Datos de Carácter Personal y en el Reglamento (UE) 2016/679 General de Protección de Datos, le informamos que sus datos personales figurarán en nuestros archivos automatizados. Sus datos no son ni serán en ningún caso suministrados a terceros. Puede en cualquier momento ejercitar su derecho de acceder, rectificar, de oposición al uso y, en su caso, cancelar sus datos personales comunicando al correo electrónico privacidad@march.es la operación a realizar. Más información sobre nuestra política de privacidad.