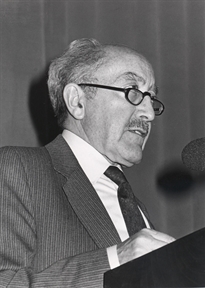 Lecture Series

Etapas de la lengua española (I)

"From the distant haze to the hispanicization of latin"
URL:
Date: 28/04/1987
Presenter:
«Mi modesto propósito se encamina sólo a considerar los momentos esenciales de la historia del español e insistir en los motivos del porqué llamamos a esta lengua español y no castellano, tarea en que tantos me han precedido ventajosamente con copiosos argumentos». Así iniciaba el profesor Emilio Alarcos el curso titulado «Etapas de la lengua española», que en cuatro conferencias dio en la Fundación Juan March entre el 28 de abril y el 7 de mayo. «De las brumas remotas a la hispanización del latín», «Del latín cantábrico al castellano», «Castellanización de otros romances hispanos» y «La descastellanización del español»: éstos fueron los títulos de las conferencias
Según lo previsto en la Ley 34/2002 de Servicios de la Sociedad de la Información y de Comercio Electrónico, en la Ley Orgánica 15/1999 del 13 de Diciembre, de Protección de Datos de Carácter Personal y en el Reglamento (UE) 2016/679 General de Protección de Datos, le informamos que sus datos personales figurarán en nuestros archivos automatizados. Sus datos no son ni serán en ningún caso suministrados a terceros. Puede en cualquier momento ejercitar su derecho de acceder, rectificar, de oposición al uso y, en su caso, cancelar sus datos personales comunicando al correo electrónico privacidad@march.es la operación a realizar. Más información sobre nuestra política de privacidad.