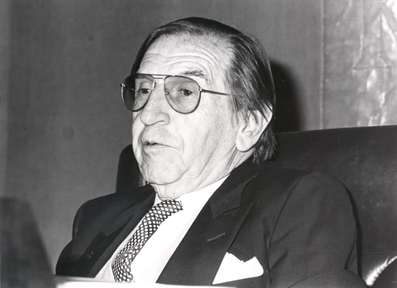 Lecture Series

La generación del 27, sesenta años después (III)

"'Litoral' and the 27 Generation"
URL:
Date: 13/10/1987
Presenter:
En el mes de diciembre, en Sevilla, en 1927, un grupo de poetas homenajeó a Luis de Góngora en el tricentenario de su muerte. Aquél fue el primer acto público de la que después sería conocida como Generación del 27. Recordando esta efeméride, en el pasado mes de octubre, entre el 6 y el 15, se celebró en la Fundación Juan March un ciclo de cuatro conferencias con el título general de «La generación del 27, 60 años después», en el que intervinieron Carlos Bousoño («Sentido actual de la Generación del 27»), José Hierro («Los poetas del 27 y mi generación»), José María Amado («Litoral y la Generación del 27») y Guillermo Carnero («Significado vanguardista del centenario de Góngora en 1927»).
Según lo previsto en la Ley 34/2002 de Servicios de la Sociedad de la Información y de Comercio Electrónico, en la Ley Orgánica 15/1999 del 13 de Diciembre, de Protección de Datos de Carácter Personal y en el Reglamento (UE) 2016/679 General de Protección de Datos, le informamos que sus datos personales figurarán en nuestros archivos automatizados. Sus datos no son ni serán en ningún caso suministrados a terceros. Puede en cualquier momento ejercitar su derecho de acceder, rectificar, de oposición al uso y, en su caso, cancelar sus datos personales comunicando al correo electrónico privacidad@march.es la operación a realizar. Más información sobre nuestra política de privacidad.