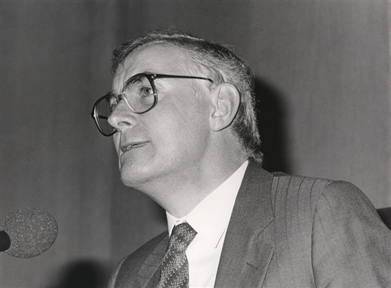 Lecture Series

La modernidad poética en España (1888-1987) (III)

"In the limits of modernity"
URL:
«Hace ya bastantes años que un tratadista francés del simbolismo lo comparaba donosamente con aquel dragón de Alca que aparece en La isla de los pingüinos: ninguno de los que aseguraban haberlo visto acertaba a decir cómo era... No sé si el símil es del todo exacto, porque lo que en realidad ocurre es que cada uno lo describe de manera diversa. Igual sucede con el modernismo.» Son éstas las primeras palabras que pronunció el profesor Víctor García de la Concha, catedrático de Literatura Española de la Universidad de Salamanca, quien impartió en la Fundación Juan March, entre los días 1 y 4 de diciembre último, un curso sobre «La modernidad poética en España (1888-1987)». Los títulos de las tres conferencias y el día en que las dictó son los siguientes: «La guerra literaria» (1 de diciembre), «Modernidad poética y compromiso social» (3 de diciembre) y «En los límites de la modernidad» (4 de diciembre).
Según lo previsto en la Ley 34/2002 de Servicios de la Sociedad de la Información y de Comercio Electrónico, en la Ley Orgánica 15/1999 del 13 de Diciembre, de Protección de Datos de Carácter Personal y en el Reglamento (UE) 2016/679 General de Protección de Datos, le informamos que sus datos personales figurarán en nuestros archivos automatizados. Sus datos no son ni serán en ningún caso suministrados a terceros. Puede en cualquier momento ejercitar su derecho de acceder, rectificar, de oposición al uso y, en su caso, cancelar sus datos personales comunicando al correo electrónico privacidad@march.es la operación a realizar. Más información sobre nuestra política de privacidad.