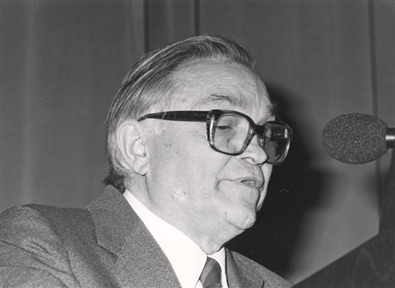 Inaugural lectures

Inauguración de la Exposición "FOTOGRAFÍAS DE IRVING PENN". Inaugural lecture
URL:
Date: 3/04/1987
Presenter:
El día 3 de abril se inaugura en Madrid, en la Fundación Juan March, una exposición retrospectiva de la obra del fotógrafo norteamericano Irving Penn, la primera que se celebra desde hace más de veinte años. Será inaugurada con una conferencia del fotógrafo catalán Francesc Català-Roca y permanecerá abierta hasta el 17 de mayo. La exposición abarca la larga vida artística de Penn, más de cuarenta años, y presenta su obra en los campos del retrato, la moda, la publicidad, el desnudo, los temas etnográficos y la naturaleza muerta, así como una selección de las primeras fotografías de Penn que no llegaron a publicarse. De un total de 168 fotografías consta esta muestra, que ha sido organizada por John Szarkowski, director del Departamento de Fotografía del Museo de Arte Moderno de Nueva York, y llega a Madrid bajo los auspicios de The International Council of The Museum of Modern Art, de Nueva York; siendo posible por la ayuda de SCM Corporation.
Según lo previsto en la Ley 34/2002 de Servicios de la Sociedad de la Información y de Comercio Electrónico, en la Ley Orgánica 15/1999 del 13 de Diciembre, de Protección de Datos de Carácter Personal y en el Reglamento (UE) 2016/679 General de Protección de Datos, le informamos que sus datos personales figurarán en nuestros archivos automatizados. Sus datos no son ni serán en ningún caso suministrados a terceros. Puede en cualquier momento ejercitar su derecho de acceder, rectificar, de oposición al uso y, en su caso, cancelar sus datos personales comunicando al correo electrónico privacidad@march.es la operación a realizar. Más información sobre nuestra política de privacidad.