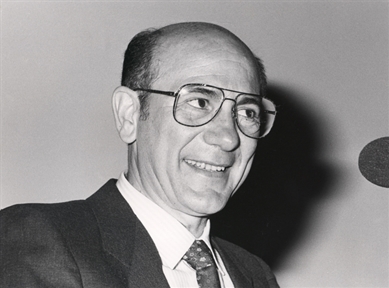 Lecture Series

Cell Receptors and Chemical signals (III)

(III) "Membrane receptors and signal transductions"
URL:
Date: 16/03/1987
Presenter:
Cincuenta destacados científicos de diversos países —entre ellos once Premios Nobel— han participado en los ciclos que en torno a diversos temas relacionados con la Biología Molecular y sus Aplicaciones viene organizando la Fundación Juan March en su sede desde 1982, dentro de la especial atención que esta institución dedica a dicha área, a través de conferencias y de su Plan de Ayudas y Becas en la materia. «La nueva Biología», «La nueva Neurobiología», «ADN y cáncer», «DNA y expresión genética», «Medicina Molecular» y, recientemente, «Receptores celulares y señales químicas» han sido los temas de los seis ciclos de conferencias en los que investigadores considerados como máximos especialistas en sus respectivas áreas de trabajo, así como destacados doctores españoles, procedentes de diversas universidades y laboratorios de investigación de nuestro país, han explicado los resultados de sus últimos trabajos. En estos seis últimos años han intervenido en estas sesiones los Premio Nobel de Medicina Rodney Porter, César Milstein, David H. Hubel, Roger Guillemin, Christian De Duve, Gerald M. Edelman y el español Severo Ochoa; y los Premios Nobel de Química Frederick Sanger, Aaron Klug, Walter Gilbert y Max Ferdinand Perutz.
Según lo previsto en la Ley 34/2002 de Servicios de la Sociedad de la Información y de Comercio Electrónico, en la Ley Orgánica 15/1999 del 13 de Diciembre, de Protección de Datos de Carácter Personal y en el Reglamento (UE) 2016/679 General de Protección de Datos, le informamos que sus datos personales figurarán en nuestros archivos automatizados. Sus datos no son ni serán en ningún caso suministrados a terceros. Puede en cualquier momento ejercitar su derecho de acceder, rectificar, de oposición al uso y, en su caso, cancelar sus datos personales comunicando al correo electrónico privacidad@march.es la operación a realizar. Más información sobre nuestra política de privacidad.