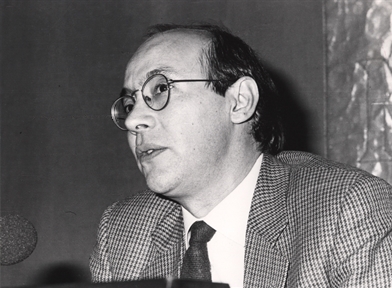 Lecture Series

Prólogos al Libro del Buen Amor (III)

(III) "The voices of the Arcipreste"
URL:
"Apuntar algunas claves teóricas acerca de la composición y la estructura del Libro de Buen Amor, sus fuentes e influencias, y de su autor, Juan Ruiz, Arcipreste de Hita, fue el objetivo del ciclo de conferencias que con el título de «Prólogos al Libro de Buen Amor» impartió en la Fundación Juan March del 12 al 21 de enero pasados el académico y catedrático de la Universidad Autónoma de Barcelona Francisco Rico, que ha realizado, en colaboración con Alberto Blecua, una edición crítica de esta obra medieval española, de próxima aparición.
Los títulos de las cuatro conferencias del ciclo fueron: «El primer amor de Juan Ruiz», «Juglares, trovadores y clérigos», «Las voces del Arcipreste» y «Yo, Juan Ruiz»."
Según lo previsto en la Ley 34/2002 de Servicios de la Sociedad de la Información y de Comercio Electrónico, en la Ley Orgánica 15/1999 del 13 de Diciembre, de Protección de Datos de Carácter Personal y en el Reglamento (UE) 2016/679 General de Protección de Datos, le informamos que sus datos personales figurarán en nuestros archivos automatizados. Sus datos no son ni serán en ningún caso suministrados a terceros. Puede en cualquier momento ejercitar su derecho de acceder, rectificar, de oposición al uso y, en su caso, cancelar sus datos personales comunicando al correo electrónico privacidad@march.es la operación a realizar. Más información sobre nuestra política de privacidad.