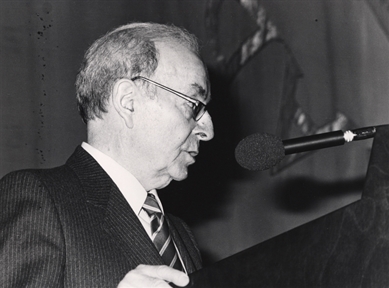 Lecture Series

La traducción en la cultura española (I)

(I) "The school of Translators of Toledo. The court of Alfonso X el Sabio"
URL:
Date: 23/02/1988
Presenter:
"Como recordaba el profesor Valentín García Yebra en su discurso de ingreso en la Real Academia Española, «la traducción ha sido desde hace milenios uno de los procedimientos más importantes, acaso el más importante, para la propagación de la cultura, para la creación y el desarrollo de nuevas literaturas y para el enriquecimiento de las lenguas utilizadas para traducir».
El problema está, a la hora de comprobar esta afirmación, en que no existe una buena historia de la traducción, empresa esta última superior a las fuerzas de cualquier individuo, en opinión de García Yebra, quien impartió en la Fundación Juan March, entre el 23 de febrero y el 3 de marzo, un curso titulado «La traducción en la cultura española», que constó de estas cuatro conferencias: «La Escuela de Traductores de Toledo. La corte de Alfonso X el Sabio» (23 de febrero); «El pórtico de nuestro Renacimiento. El marqués de Santillana» (25 de febrero); «El Siglo de Oro. Boscán y Fray Luis» (1 de marzo); y «La traducción en el siglo XX. Realidades y perspectivas» (3 de marzo)."
Según lo previsto en la Ley 34/2002 de Servicios de la Sociedad de la Información y de Comercio Electrónico, en la Ley Orgánica 15/1999 del 13 de Diciembre, de Protección de Datos de Carácter Personal y en el Reglamento (UE) 2016/679 General de Protección de Datos, le informamos que sus datos personales figurarán en nuestros archivos automatizados. Sus datos no son ni serán en ningún caso suministrados a terceros. Puede en cualquier momento ejercitar su derecho de acceder, rectificar, de oposición al uso y, en su caso, cancelar sus datos personales comunicando al correo electrónico privacidad@march.es la operación a realizar. Más información sobre nuestra política de privacidad.