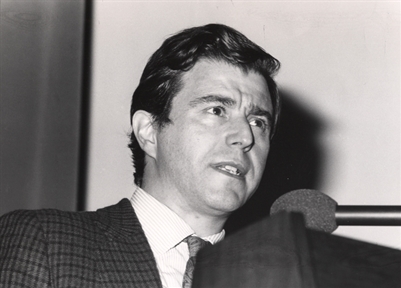 Lecture Series

Madrid, fin de siglo (IV)

"The purpose of the architecture of Madrid"
URL:
Date: 10/11/1988
Presenter:
Sobre el futuro arquitectónico y urbanístico de Madrid, tres arquitectos y un historiador de la arquitectura hablaron en la Fundación Juan March, del 3 al 10 de noviembre pasado, en un ciclo de conferencias titulado «Madrid, fin de siglo». El catedrático de Historia de la Arquitectura Carlos Sambricio abrió el ciclo con una conferencia sobre «Hacia un Madrid moderno»; Antón Capitel, arquitecto y profesor titular de la Escuela de Arquitectura de Madrid, habló de «La arquitectura de Madrid hacia 1990»; el también arquitecto y actualmente director general de Urbanismo de la Comunidad de Madrid, José María Ezquiaga, lo hizo sobre «Urbanismo en Madrid; 1992 y después»; y cerró el ciclo el profesor de la citada Escuela de Madrid y arquitecto Gabriel Ruiz Cabrero, con una conferencia titulada «Fin de la arquitectura de Madrid».
Según lo previsto en la Ley 34/2002 de Servicios de la Sociedad de la Información y de Comercio Electrónico, en la Ley Orgánica 15/1999 del 13 de Diciembre, de Protección de Datos de Carácter Personal y en el Reglamento (UE) 2016/679 General de Protección de Datos, le informamos que sus datos personales figurarán en nuestros archivos automatizados. Sus datos no son ni serán en ningún caso suministrados a terceros. Puede en cualquier momento ejercitar su derecho de acceder, rectificar, de oposición al uso y, en su caso, cancelar sus datos personales comunicando al correo electrónico privacidad@march.es la operación a realizar. Más información sobre nuestra política de privacidad.