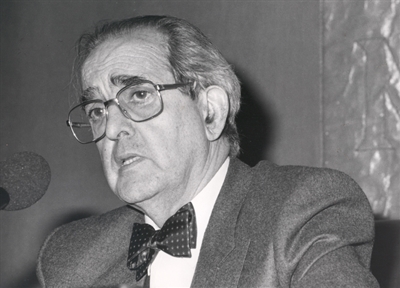 Lecture Series

Europa en la hora de su definición (II)

(II) "The internal and external factors of European unity"
URL:
"«EUROPA EN LA HORA DE SU DEFINICION»
I Conferencias de Fernando Morán
La situación en la que se encuentra la Europa comunitaria en este fin de siglo, ante el nuevo escenario internacional mundial; sus factores de cohesión económica, social y cultural; los retos y opciones que se le presentan en lo económico, con la creación del Mercado Interior, en 1992, y en lo político-estratégico, fueron analizados en el ciclo de conferencias que bajo el título general de «Europa en la hora de su definición», impartió en la Fundación Juan March del 4 al 13 de abril pasados el diplomático y diputado al Parlamento Europeo, Fernando Morán. Los títulos de las cuatro conferencias fueron «El nuevo escenario internacional y Europa», «Los factores internos y externos de la cohesión europea», «El mercado único, ¿base de la integración política?» y «Europa entre la consolidación y el protagonismo internacional»."
Según lo previsto en la Ley 34/2002 de Servicios de la Sociedad de la Información y de Comercio Electrónico, en la Ley Orgánica 15/1999 del 13 de Diciembre, de Protección de Datos de Carácter Personal y en el Reglamento (UE) 2016/679 General de Protección de Datos, le informamos que sus datos personales figurarán en nuestros archivos automatizados. Sus datos no son ni serán en ningún caso suministrados a terceros. Puede en cualquier momento ejercitar su derecho de acceder, rectificar, de oposición al uso y, en su caso, cancelar sus datos personales comunicando al correo electrónico privacidad@march.es la operación a realizar. Más información sobre nuestra política de privacidad.