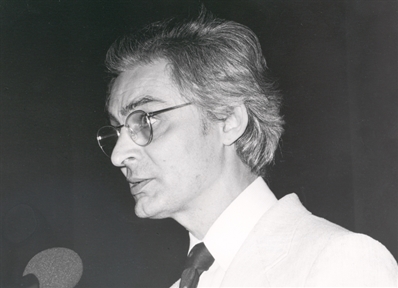 Lecture Series

De la utopía al terror en la Revolución Francesa (II)

"Jacobinism in Modern History"
URL:
"Sobre la Revolución Francesa trató el último de los Cursos universitarios celebrados en la Fundación Juan March en el pasado curso 1988-89. Del 16 al 23 de mayo último, Patrice Higonnet, profesor de Historia Francesa de la Universidad de Harvard, impartió un ciclo de cuatro conferencias, con el título de «La fraternité ou la mort: From Utopia to Terror during the French Revolution», que fue organizado por el Centro de Estudios Avanzados en Ciencias Sociales del Instituto Juan March de Estudios e Investigaciones.
Los títulos de las cuatro conferencias fueron: «Violence and the French Revolution»; «Jacobinism in Modern History»; «Revolutionary Suicide»; y «Nature and Effects of the French Revolution»."
Según lo previsto en la Ley 34/2002 de Servicios de la Sociedad de la Información y de Comercio Electrónico, en la Ley Orgánica 15/1999 del 13 de Diciembre, de Protección de Datos de Carácter Personal y en el Reglamento (UE) 2016/679 General de Protección de Datos, le informamos que sus datos personales figurarán en nuestros archivos automatizados. Sus datos no son ni serán en ningún caso suministrados a terceros. Puede en cualquier momento ejercitar su derecho de acceder, rectificar, de oposición al uso y, en su caso, cancelar sus datos personales comunicando al correo electrónico privacidad@march.es la operación a realizar. Más información sobre nuestra política de privacidad.