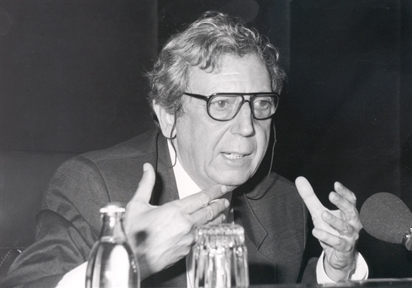 Lecture Series

La literatura al cabo del siglo (IV)

"The literary state of affairs: just yesterday and today"
URL:
Con el ciclo de cuatro conferencias «La literatura, al cabo del siglo», que dio José María Valverde en la Fundación Juan March entre el 2 y el 11 de octubre, se reanudaron en esta institución las conferencias habituales dentro de la programación de cada curso tras el paréntesis veraniego. José María Valverde, catedrático de Estética, ensayista, poeta y traductor, habló el martes día 2 de octubre de «Un orden amenazado: hasta la Primera Guerra Mundial»; el jueves 4, de «La experiencia vanguardista»; el martes 9, de «El virus lingüístico»; y el jueves 11, de «El estado literario de cosas: ayer mismo y hoy».
Según lo previsto en la Ley 34/2002 de Servicios de la Sociedad de la Información y de Comercio Electrónico, en la Ley Orgánica 15/1999 del 13 de Diciembre, de Protección de Datos de Carácter Personal y en el Reglamento (UE) 2016/679 General de Protección de Datos, le informamos que sus datos personales figurarán en nuestros archivos automatizados. Sus datos no son ni serán en ningún caso suministrados a terceros. Puede en cualquier momento ejercitar su derecho de acceder, rectificar, de oposición al uso y, en su caso, cancelar sus datos personales comunicando al correo electrónico privacidad@march.es la operación a realizar. Más información sobre nuestra política de privacidad.