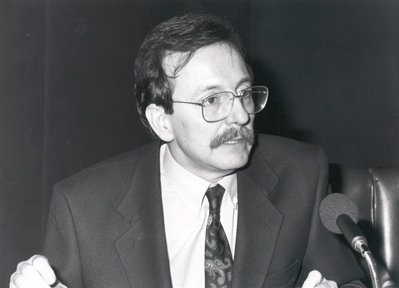 Lecture Series

La organización territorial del Estado español (1833-1978) (I)

"The building of the Modern State"
URL:
Date: 20/11/1990
Presenter:
Sobre «La organización territorial del Estado español (1833-1978)» impartió un ciclo de conferencias, del 20 al 29 de noviembre del pasado año, el historiador y catedrático de la Universidad Complutense Juan Pablo Fusi, dentro de los Cursos Universitarios de la Fundación Juan March. Los temas de las cuatro charlas fueron «La construcción del Estado moderno», «La Administración Provincial en España», «La aparición de los nacionalismos» y «Los regímenes autonómicos».
Según lo previsto en la Ley 34/2002 de Servicios de la Sociedad de la Información y de Comercio Electrónico, en la Ley Orgánica 15/1999 del 13 de Diciembre, de Protección de Datos de Carácter Personal y en el Reglamento (UE) 2016/679 General de Protección de Datos, le informamos que sus datos personales figurarán en nuestros archivos automatizados. Sus datos no son ni serán en ningún caso suministrados a terceros. Puede en cualquier momento ejercitar su derecho de acceder, rectificar, de oposición al uso y, en su caso, cancelar sus datos personales comunicando al correo electrónico privacidad@march.es la operación a realizar. Más información sobre nuestra política de privacidad.