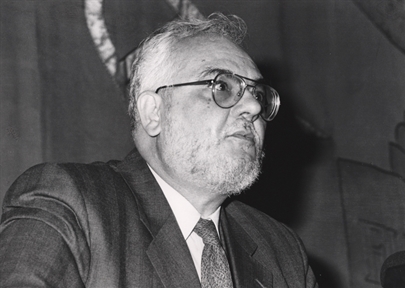 Lecture Series

La cuestión alemana (II)

"From the German 'question' to the 'tragedy': from Bismarck to Hitler"
URL:
El tema del curso que dio en la Fundación Juan March, entre los días 19 y 28 de febrero, el profesor Ignacio Sotelo, catedrático de Ciencias Políticas de la Universidad Libre de Berlín, fue el de La cuestión alemana («Die deutsche Frage»). Qué ocultaba esa fórmula, «ya casi ritual en la historiografía alemana», y a qué temas aludía esa expresión es a lo que dedicó el comienzo de su intervención, y así, tras haber definido la «cuestión alemana», poderse ocupar de «Del Congreso de Viena (1815) a la fundación del Imperio (1871)» (el 19 de febrero); de «De la 'cuestión' a la 'tragedia alemana': de Bismarck a Hitler» (el 21 de febrero); de «Surgimiento y consolidación de dos Estados alemanes» (el 26 de febrero); y de «La unificación de Alemania: causas y consecuencias» (el 28 de febrero).
Según lo previsto en la Ley 34/2002 de Servicios de la Sociedad de la Información y de Comercio Electrónico, en la Ley Orgánica 15/1999 del 13 de Diciembre, de Protección de Datos de Carácter Personal y en el Reglamento (UE) 2016/679 General de Protección de Datos, le informamos que sus datos personales figurarán en nuestros archivos automatizados. Sus datos no son ni serán en ningún caso suministrados a terceros. Puede en cualquier momento ejercitar su derecho de acceder, rectificar, de oposición al uso y, en su caso, cancelar sus datos personales comunicando al correo electrónico privacidad@march.es la operación a realizar. Más información sobre nuestra política de privacidad.