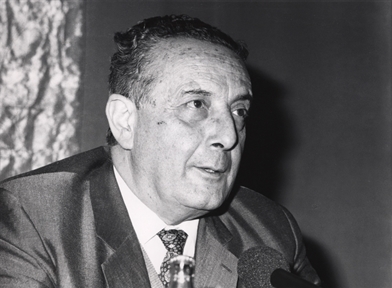 Lecture Series

Ignacio de Loyola: solo y a pie (I)

"The real picture of Ignatius of Loyola"
URL:
Date: 16/04/1991
Presenter:
«Podemos acercarnos con garantías de objetividad a la personalidad de Ignacio de Loyola, personalidad que no concuerda con la caricatura tétrica elaborada subjetivamente por muchos de sus retratistas literarios, pero no históricos o historiadores mínimamente serios». Son palabras de José Ignacio Tellechea, catedrático de Historia de la Iglesia de la Universidad Pontificia de Salamanca y autor de una reciente biografía sobre Loyola traducida a varios idiomas, en un ciclo de conferencias que, coincidiendo con el quinto centenario del nacimiento del santo, impartió en la Fundación Juan March, del 16 al 25 del pasado mes de abril, con el título general de «Ignacio de Loyola: solo y a pie». Se ofrece seguidamente un resumen de las mismas.
Según lo previsto en la Ley 34/2002 de Servicios de la Sociedad de la Información y de Comercio Electrónico, en la Ley Orgánica 15/1999 del 13 de Diciembre, de Protección de Datos de Carácter Personal y en el Reglamento (UE) 2016/679 General de Protección de Datos, le informamos que sus datos personales figurarán en nuestros archivos automatizados. Sus datos no son ni serán en ningún caso suministrados a terceros. Puede en cualquier momento ejercitar su derecho de acceder, rectificar, de oposición al uso y, en su caso, cancelar sus datos personales comunicando al correo electrónico privacidad@march.es la operación a realizar. Más información sobre nuestra política de privacidad.