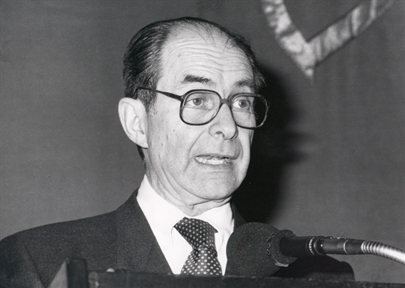 Lecture Series

Memoria y vigencia de Pedro Salinas (II)

"Salinas and the universalization of Spanish poetry"
URL:
Date: 17/10/1991
Presenter:
Al cumplirse el pasado otoño el centenario del nacimiento del poeta Pedro Salinas (1891-1951), la Fundación Juan March iniciaba los actos de conmemoración dedicando uno de sus Cursos universitarios al escritor, con el título de «Memoria y vigencia de Pedro Salinas», que impartieron del 15 al 24 de octubre el ensayista Juan Manchal, catedrático emérito de la Harvard University, y Soledad Salinas, hija del poeta y autora de diversas ediciones de la obra del mismo. Esta dio la primera y última de las charlas (los días 15 y 24 de octubre) y Marichal la segunda y tercera (17 y 22 de octubre).
Según lo previsto en la Ley 34/2002 de Servicios de la Sociedad de la Información y de Comercio Electrónico, en la Ley Orgánica 15/1999 del 13 de Diciembre, de Protección de Datos de Carácter Personal y en el Reglamento (UE) 2016/679 General de Protección de Datos, le informamos que sus datos personales figurarán en nuestros archivos automatizados. Sus datos no son ni serán en ningún caso suministrados a terceros. Puede en cualquier momento ejercitar su derecho de acceder, rectificar, de oposición al uso y, en su caso, cancelar sus datos personales comunicando al correo electrónico privacidad@march.es la operación a realizar. Más información sobre nuestra política de privacidad.