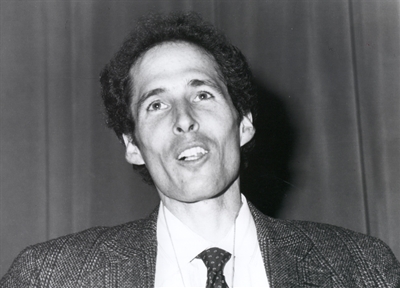 Lecture Series

Neurophysiology of Vision (II)

"Molecular genetics of visual pigments"
URL:
Date: 25/02/1991
Presenter:
El Premio Nobel de Medicina 1981, Torsten Wiesel, del Laboratorio de Neurobiologia de la Universidad Rockefeller; Jeremy Nathans, de los Howard Hugues Medical Institute Research Laboratories, de Baltimore; y Alberto J. Aguayo, del Montreal General Hospital Research Institute, participaron en el Ciclo sobre «Neurofisiologia de la vision», que organizó la Fundación Juan March en su sede del 18 de febrero al 11 de marzo pasados. En esta serie de conferencias públicas estaba programada la intervención del también Premio Nobel de Medicina 1981 David H. Hubel, quien no pudo asistir al ciclo por enfermedad.
Según lo previsto en la Ley 34/2002 de Servicios de la Sociedad de la Información y de Comercio Electrónico, en la Ley Orgánica 15/1999 del 13 de Diciembre, de Protección de Datos de Carácter Personal y en el Reglamento (UE) 2016/679 General de Protección de Datos, le informamos que sus datos personales figurarán en nuestros archivos automatizados. Sus datos no son ni serán en ningún caso suministrados a terceros. Puede en cualquier momento ejercitar su derecho de acceder, rectificar, de oposición al uso y, en su caso, cancelar sus datos personales comunicando al correo electrónico privacidad@march.es la operación a realizar. Más información sobre nuestra política de privacidad.