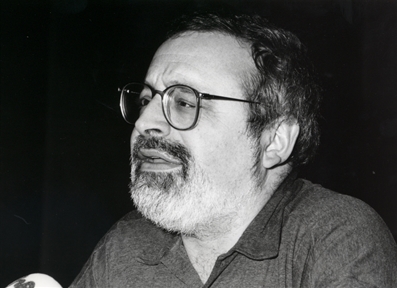 Lecture Series

Ética sin ideologías (III)

"Imposition of the good: the ethical paternalism"
URL:
"«Etica es una palabra que estamos oyendo continuamente y quizá con un cierto exceso la ética se ha convertido en una especie de arma arrojadiza. La ética se convierte en un discurso que uno hace para censurar a los demás. A mí me parece que hay una cierta mala colocación del tema de la ética. La ética es una especie de elemento censor o calificador de los otros».
Con estas palabras comenzaba el ensayista y profesor de Etica, Fernando Savater, la primera de las cuatro conferencias que con el título general de «Etica sin ideologías» impartió en la Fundación Juan March, entre el 7 y el 14 de enero. El martes 7 de enero habló de «Las ideologías y la Etica»; el jueves 9, de «¿Pluralismo o relativismo ético?»; el martes 14, de «La imposición del bien: El paternalismo ético»; y el jueves 16, de «La educación moral hoy»."
Según lo previsto en la Ley 34/2002 de Servicios de la Sociedad de la Información y de Comercio Electrónico, en la Ley Orgánica 15/1999 del 13 de Diciembre, de Protección de Datos de Carácter Personal y en el Reglamento (UE) 2016/679 General de Protección de Datos, le informamos que sus datos personales figurarán en nuestros archivos automatizados. Sus datos no son ni serán en ningún caso suministrados a terceros. Puede en cualquier momento ejercitar su derecho de acceder, rectificar, de oposición al uso y, en su caso, cancelar sus datos personales comunicando al correo electrónico privacidad@march.es la operación a realizar. Más información sobre nuestra política de privacidad.