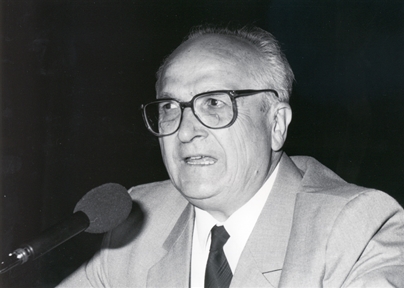 Lecture Series

Encuentro con Miguel Delibes (III)

(III) "The ethical background of Miguel Delibes' work (a view from the Eastern Europe)"
URL:
Date: 21/05/1992
Presenter:
El Ministro de Cultura, Jordi Solé Tura, inauguró, el pasado 12 de mayo, y en la sede de la Fundación Juan March, el ciclo de conferencias y la exposición de la vida y obra de Miguel Delibes, que el Centro de las Letras Españolas dedicó a lo largo del mes de mayo y primeros días de junio al escritor vallisoletano, que en 1991 había obtenido el Premio Nacional de las Letras Españolas. El homenaje constó de una exposición bibliográfica y un ciclo de conferencias, ambos en la Fundación Juan March, y de unas mesas redondas en la Fundación Mapfre-Vida.
Según lo previsto en la Ley 34/2002 de Servicios de la Sociedad de la Información y de Comercio Electrónico, en la Ley Orgánica 15/1999 del 13 de Diciembre, de Protección de Datos de Carácter Personal y en el Reglamento (UE) 2016/679 General de Protección de Datos, le informamos que sus datos personales figurarán en nuestros archivos automatizados. Sus datos no son ni serán en ningún caso suministrados a terceros. Puede en cualquier momento ejercitar su derecho de acceder, rectificar, de oposición al uso y, en su caso, cancelar sus datos personales comunicando al correo electrónico privacidad@march.es la operación a realizar. Más información sobre nuestra política de privacidad.