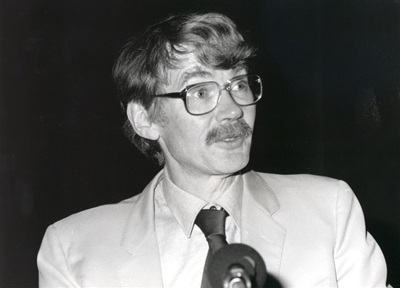 Lecture Series

Four Crises of the Nation-State (I)

The Rise of the Modern State and the Revolutions of the Early Modern Era"
URL:
Date: 1/12/1992
Presenter:
"Sobre «Four crises of the nation-state» (Cuatro crisis del Estado-nación), el sociólogo Michael Mann, profesor del Departamento de Sociología de la Universidad de California en Los Angeles, impartió en la Fundación Juan March, del 1 al 11 de diciembre, un ciclo de conferencias públicas organizado por el Centro de Estudios Avanzados en Ciencias Sociales. Michael Mann participó en un seminario de seguimiento de las investigaciones doctorales de los alumnos del Centro durante el primer semestre del curso 1992-93.
A lo largo de las cuatro conferencias de que constó el ciclo, Michael Mann analizó varios siglos de la historia del Estado en Europa y América, historia que él describe como la metáfora del ciclo vital. Mann habló así en primer lugar acerca de «la niñez del Estado moderno» y de las circunstancias en que ocurrieron las Revoluciones en unos determinados países, y el porqué no ocurrieron en otras. Este análisis (resumido a continuación) se centró en cinco países que en el período objeto de estudio son representativos de lo que en su opinión es un Estado occidental desarrollado: Austria, Inglaterra, Prusia (Alemania), Francia y Estados Unidos."
Según lo previsto en la Ley 34/2002 de Servicios de la Sociedad de la Información y de Comercio Electrónico, en la Ley Orgánica 15/1999 del 13 de Diciembre, de Protección de Datos de Carácter Personal y en el Reglamento (UE) 2016/679 General de Protección de Datos, le informamos que sus datos personales figurarán en nuestros archivos automatizados. Sus datos no son ni serán en ningún caso suministrados a terceros. Puede en cualquier momento ejercitar su derecho de acceder, rectificar, de oposición al uso y, en su caso, cancelar sus datos personales comunicando al correo electrónico privacidad@march.es la operación a realizar. Más información sobre nuestra política de privacidad.