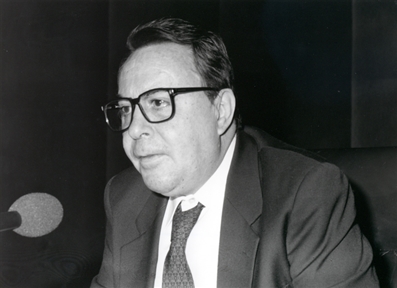 Lecture Series

Cuatro lecciones sobre Jorge Guillén en su centenario (III)

"Unity and variety in the works of Jorge Guillén"
URL:
Date: 19/01/1993
Presenter:
"El pasado 13 de enero se cumplía el centenario del nacimiento del poeta Jorge Guillén, y con este motivo la Fundación Juan March organizó un ciclo titulado «Cuatro lecciones sobre Jorge Guillén», a cargo de los poetas, miembros de distintas generaciones herederas del magisterio de la del 27, Guillermo Carnero («La práctica de la poesía pura en Jorge Guillén», martes 12 de enero); Carlos Bousoño («El Cántico de Jorge Guillén y el expresionismo», jueves 14 de enero); Claudio Rodríguez («Unidad y variedad en la obra de Jorge Guillén», martes 19 de enero); y José Hierro («Guillén, perfil de su poesía», jueves 21 de enero).
Coincidiendo con este ciclo se expusieron en el vestíbulo del auditorio unos paneles con libros de artista de Eduardo Chillida, Antoni Tapies y José Guerrero, cuyos grabados originales iban acompañados de poemas de Jorge
Guillén."
Según lo previsto en la Ley 34/2002 de Servicios de la Sociedad de la Información y de Comercio Electrónico, en la Ley Orgánica 15/1999 del 13 de Diciembre, de Protección de Datos de Carácter Personal y en el Reglamento (UE) 2016/679 General de Protección de Datos, le informamos que sus datos personales figurarán en nuestros archivos automatizados. Sus datos no son ni serán en ningún caso suministrados a terceros. Puede en cualquier momento ejercitar su derecho de acceder, rectificar, de oposición al uso y, en su caso, cancelar sus datos personales comunicando al correo electrónico privacidad@march.es la operación a realizar. Más información sobre nuestra política de privacidad.