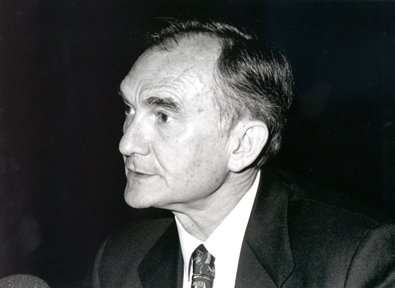 Lecture Series

La historia constitucional española (1812-1978) (IV)

"From 'las Españas' of Cádiz to the State of the Autonomies"
URL:
"Un repaso a la historia constitucional española, desde las Cortes de Cádiz de 1812 hasta la actual Constitución de 1978, fue el contenido de las cuatro conferencias que impartió del 23 de marzo al 1 de abril pasados el catedrático de Historia del Derecho de la Universidad Autónoma de Madrid, Francisco Tomás y Valiente, dentro de los Cursos universitarios de la Fundación Juan March. Los títulos de las cuatro lecciones fueron: «De la Monarquía constitucional a la parlamentaria», «De las libertades individuales a los derechos fundamentales», «De la administración de justicia al poder judicial» y «De las Españas de Cádiz al Estado de las Autonomías».
Al tema de la Constitución española, dedicó en 1988 la Fundación otro de sus Cursos, impartido en aquella ocasión por Landelino Lavilla."
Según lo previsto en la Ley 34/2002 de Servicios de la Sociedad de la Información y de Comercio Electrónico, en la Ley Orgánica 15/1999 del 13 de Diciembre, de Protección de Datos de Carácter Personal y en el Reglamento (UE) 2016/679 General de Protección de Datos, le informamos que sus datos personales figurarán en nuestros archivos automatizados. Sus datos no son ni serán en ningún caso suministrados a terceros. Puede en cualquier momento ejercitar su derecho de acceder, rectificar, de oposición al uso y, en su caso, cancelar sus datos personales comunicando al correo electrónico privacidad@march.es la operación a realizar. Más información sobre nuestra política de privacidad.