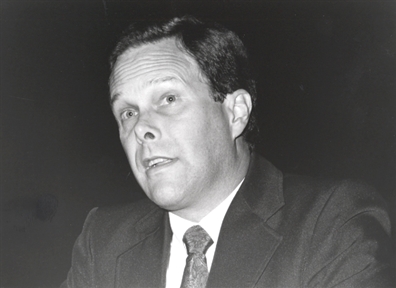 Lecture Series

Nuevas democracias y partidos en el Sur de Europa (IV)

"The social and political bases of parties"
URL:
Con el título de «Nuevas democracias y partidos en el sur de Europa» se celebró en la Fundación Juan March, entre el 25 de octubre y el 4 de noviembre, un ciclo de conferencias públicas, organizado por el Centro de Estudios Avanzados en Ciencias Sociales, del Instituto Juan March de Estudios e Investigaciones. Richard Gunther habló el día 25 de octubre de «La consolidación democrática», y el 4 de noviembre, de «Las bases sociales y políticas de los partidos». José Ramón Montero, quien describió el ciclo de conferencias como «una celebración académica del éxito y consolidación de la democracia en los países del sur de Europa», intervino el 27 de octubre hablando de «La legitimidad de las nuevas democracias», y el 3 de noviembre, de «Partidos y sistemas de partidos».
Según lo previsto en la Ley 34/2002 de Servicios de la Sociedad de la Información y de Comercio Electrónico, en la Ley Orgánica 15/1999 del 13 de Diciembre, de Protección de Datos de Carácter Personal y en el Reglamento (UE) 2016/679 General de Protección de Datos, le informamos que sus datos personales figurarán en nuestros archivos automatizados. Sus datos no son ni serán en ningún caso suministrados a terceros. Puede en cualquier momento ejercitar su derecho de acceder, rectificar, de oposición al uso y, en su caso, cancelar sus datos personales comunicando al correo electrónico privacidad@march.es la operación a realizar. Más información sobre nuestra política de privacidad.