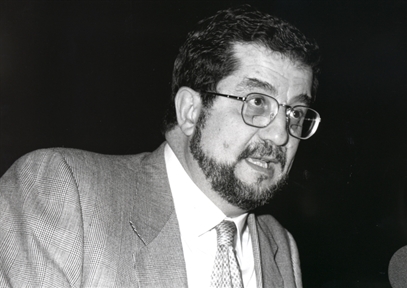 Lecture Series

El subconsciente de nuestra lengua (IV)

"On the future of our language"
URL:
José Antonio Pascual, catedrático de Filología Española de la Universidad de Salamanca y que ha sido director del Instituto de Lexicografía de la Real Academia Española, impartió en la Fundación Juan March, entre el 24 de enero y el 2 de febrero, un curso titulado «El subconsciente de nuestra lengua». Así el martes 24 de enero habló de «Algunos dudosos pasos por su historia»; el jueves 26, de «La huella del pasado en el léxico»; el martes 31, de «Las condiciones del presente en el léxico»; y el jueves 2 de febrero, de «Sobre el futuro de nuestra lengua».
Según lo previsto en la Ley 34/2002 de Servicios de la Sociedad de la Información y de Comercio Electrónico, en la Ley Orgánica 15/1999 del 13 de Diciembre, de Protección de Datos de Carácter Personal y en el Reglamento (UE) 2016/679 General de Protección de Datos, le informamos que sus datos personales figurarán en nuestros archivos automatizados. Sus datos no son ni serán en ningún caso suministrados a terceros. Puede en cualquier momento ejercitar su derecho de acceder, rectificar, de oposición al uso y, en su caso, cancelar sus datos personales comunicando al correo electrónico privacidad@march.es la operación a realizar. Más información sobre nuestra política de privacidad.