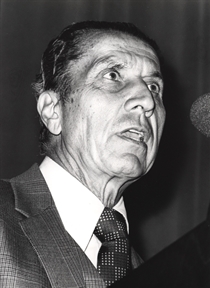 Lecture Series

Control físico de la mente y creatividad humana (III)

"The creation of the future man: objective and action plan"
URL:
"REVISAR ideas filosóficas arraigadas, a la luz de nuevos conocimientos sobre biología de la mente, para buscar soluciones a la crisis material y espiritual en la que vivimos, ayudando a la clarividencia individual mediante consejos prácticos sobre autocontrol mental, ha sido el propósito de las cinco conferencias del Profesor Rodríguez Delgado que, en torno al tema general "Control físico de la mente y creatividad humana", han constituido el segundo Ciclo Universitario organizado por la Fundación Juan March en colaboración con el Instituto de las Ciencias del Hombre.
A lo largo de sus charlas, ilustradas con la proyección de diapositivas y películas de los experimentos realizados por su grupo en las Islas Bermudas, el profesor trató de los siguientes puntos: "Controles cerebrales: métodos, posibilidades y límites"; "Castigo, agresividad y conflictos sociales"; "Ingeniería de la felicidad"; "Implicaciones éticas, pedagógicas y filosóficas del control cerebral"; y "La creación del hombre futuro: objetivo y plan de acción"."
Según lo previsto en la Ley 34/2002 de Servicios de la Sociedad de la Información y de Comercio Electrónico, en la Ley Orgánica 15/1999 del 13 de Diciembre, de Protección de Datos de Carácter Personal y en el Reglamento (UE) 2016/679 General de Protección de Datos, le informamos que sus datos personales figurarán en nuestros archivos automatizados. Sus datos no son ni serán en ningún caso suministrados a terceros. Puede en cualquier momento ejercitar su derecho de acceder, rectificar, de oposición al uso y, en su caso, cancelar sus datos personales comunicando al correo electrónico privacidad@march.es la operación a realizar. Más información sobre nuestra política de privacidad.