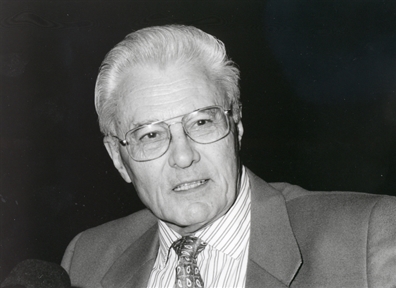 Lecture Series

De Valle-Inclán a Buero Vallejo: El conflicto de las mediaciones (I)

"Valle-Inclán: the return of Dionysus"
URL:
Date: 18/11/1997
Presenter:
Con el título de «De Valle-Inclán a Buero Vallejo: el conflicto de las mediaciones», Francisco Ruiz Ramón, Centennial Professor de Español de la Universidad de Vanderbilt (Estados Unidos), dio en la Fundación Juan March, del 18 al 27 de noviembre pasado, un ciclo de conferencias organizado por esta institución a través de su Biblioteca de Teatro Español Contemporáneo. En estas cuatro sesiones, el profesor Ruiz Ramón se centró en cuatro autores -Valle-Inclán, Lorca, Jardiel Poncela y Buero Vallejo- y analizó «unos pocos aspectos, niveles o sectores de un fenómeno y de unos textos situados en el contexto en cuyo clima nace o no nace o, para decirlo unamunianamente, 'desnace' el gran Texto llamado teatro español contemporáneo». Los títulos de las conferencias fueron «Valle-Inclán: el retorno de Dionisos»; «Lorca: un modelo de espacio dramático»; «El caso Jardiel Poncela»; y «Buero Vallejo: poética de la integración».
Según lo previsto en la Ley 34/2002 de Servicios de la Sociedad de la Información y de Comercio Electrónico, en la Ley Orgánica 15/1999 del 13 de Diciembre, de Protección de Datos de Carácter Personal y en el Reglamento (UE) 2016/679 General de Protección de Datos, le informamos que sus datos personales figurarán en nuestros archivos automatizados. Sus datos no son ni serán en ningún caso suministrados a terceros. Puede en cualquier momento ejercitar su derecho de acceder, rectificar, de oposición al uso y, en su caso, cancelar sus datos personales comunicando al correo electrónico privacidad@march.es la operación a realizar. Más información sobre nuestra política de privacidad.