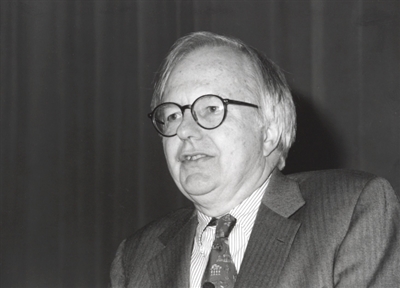 Lecture Series

Señalización por fosforilación de tirosinas (IV)

(y IV) Signalling Genes from the Cell Surface"
URL:
Date: 23/03/1998
Presenter:
Signalling Through Tyrosine Phosphorylation («Señalización por fosforilación de tirosinas») fue el tema elegido para el XVII Ciclo de Conferencias Juan March sobre Biología, que convoca anualmente el Centro de Reuniones Internacionales sobre Biología, del Instituto Juan March de Estudios e Investigaciones, y que se desarrolló, en sesiones públicas, entre el lunes 2 y el lunes 23 del mes de marzo. Cuatro científicos extranjeros mostraron sus últimos trabajos en torno al tema general objeto del ciclo. El lunes 2 de marzo, el Nobel de Medicina Edmond H. Fischer habló de Cell Regulation by Protein Phosphorylation y fue presentado por Carmelo Bernabéu, del Centro de Investigaciones Biológicas, Madrid. El lunes 9 de marzo, Tony Hunter habló de Structure and Function of Tyrosine Minases and Phosphatases y fue presentado por César de Haro, del Centro de Biología Molecular «Severo Ochoa», Universidad Autónoma, Madrid. El lunes 16 de marzo, Joseph Schlessinger habló de Mechanism of Action of Growlh Factor Receptors y fue presentado por Flora de Pablo, del Centro de Investigaciones Biológicas, Madrid. El lunes 23 de marzo, James E. Damell habló de Signalling Genes frotn the Cell Suiface y fue presentado por Rafael Fernández Muñoz, del Hospital Ramón v Cajal, Madrid.
Según lo previsto en la Ley 34/2002 de Servicios de la Sociedad de la Información y de Comercio Electrónico, en la Ley Orgánica 15/1999 del 13 de Diciembre, de Protección de Datos de Carácter Personal y en el Reglamento (UE) 2016/679 General de Protección de Datos, le informamos que sus datos personales figurarán en nuestros archivos automatizados. Sus datos no son ni serán en ningún caso suministrados a terceros. Puede en cualquier momento ejercitar su derecho de acceder, rectificar, de oposición al uso y, en su caso, cancelar sus datos personales comunicando al correo electrónico privacidad@march.es la operación a realizar. Más información sobre nuestra política de privacidad.