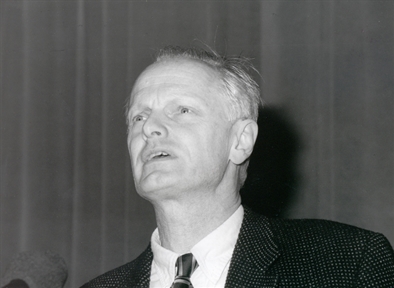 Lecture Series

Nuevas perspectivas en la investigación del cáncer (III)

"Chromosomal Translocations, Cancer and Therapeutic Targets"
URL:
Date: 15/03/1999
Presenter:
New Perspectives in Cáncer Research («Nuevas perspectivas en la investigación del cáncer») fue el tema elegido para el XVIII Ciclo de Conferencias Juan March sobre Biología, que convoca el Centro de Reuniones Internacionales sobre Biología, del Instituto Juan March de Estudios e Investigaciones, y que se desarrolló, en sesiones públicas, entre el lunes I y el lunes 22 de marzo. Cuatro científicos mostraron sus últimos trabajos en torno al tema general objeto del ciclo. El lunes 1 de marzo, el Premio Nobel de Medicina J. Michael Bishop habló de Cáncer: ihe Rise of the Genetic Paradigm y fue presentado por Margarita Salas, del Centro de Biología Molecular «Severo Ochoa», de Madrid. El lunes 8 de marzo, Richard Peto habló de Worklwide Strategies for Cáncer Control y fue presentado por Manuel Nieto-Sampedro, del Instituto Cajal, de Madrid. El lunes 15 de marzo, Terry H. Rabbitts habló de Chromosomal Translocations, Cáncer and Therapeutic Targets y fue presentado por Andrés Aguilera, de la Facultad de Biología de la Universidad de Sevilla. El lunes 22 de marzo, Mariano Barbacid habló de Cáncer and the Cell Cycle y fue presentado por Juan Carlos Lacal, del Instituto de Investigaciones Biomédicas, de Madrid.
Según lo previsto en la Ley 34/2002 de Servicios de la Sociedad de la Información y de Comercio Electrónico, en la Ley Orgánica 15/1999 del 13 de Diciembre, de Protección de Datos de Carácter Personal y en el Reglamento (UE) 2016/679 General de Protección de Datos, le informamos que sus datos personales figurarán en nuestros archivos automatizados. Sus datos no son ni serán en ningún caso suministrados a terceros. Puede en cualquier momento ejercitar su derecho de acceder, rectificar, de oposición al uso y, en su caso, cancelar sus datos personales comunicando al correo electrónico privacidad@march.es la operación a realizar. Más información sobre nuestra política de privacidad.